Welcome to ICIP 2011

Nov. 2011:
Sep. 2011:
May 2011:
Please address all questions related to:
The Organizing Committee warmly thank all the participants for their support in making this 18th IEEE ICIP 2011 a great success.
We sincerely hope that you all enjoyed our Technical Program and the Belgian Touch of our Social Events.
The International Conference on Image Processing (ICIP), sponsored by the IEEE Signal Processing Society, is the premier forum for the presentation of technological advances and research results in the fields of theoretical, experimental, and applied image and video processing. ICIP 2011, the 18th in the series that has been held annually since 1994, will bring together leading engineers and scientists in image processing from around the world. Research frontiers in fields ranging from traditional image processing applications to evolving multimedia and video technologies are regularly advanced by results first reported in ICIP technical sessions. For ICIP 2011 as well as the general topics commonly used, emphasis will also be placed on a series of special Belgian flavored themes.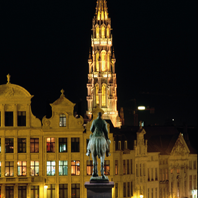 Vue from Monts des Arts © M. Van Hulst
ICIP 2011 will be organized on September 11-14 in the Square Brussels Meeting Center, located in the heart of the capital city of Belgium, the political and administrative capital of Europe, Brussels.
General ICIP 2011 themes include, but are not limited to:
Image/video coding and transmission
Image/video processing
Image formation
Image scanning, display, and printing
Image/video storage, retrieval, and authentication
Applications
Special Themes for ICIP 2011 - Brussels
Astronomy
Cultural Heritage
Human Media Interaction
For more information, see the related Call for Papers.
Important deadlines
Submission of special session abstracts
November 14th, 2010
Submission of special session proposals
November 19th, 2010
Notification of special session acceptance
December 17th, 2010
Submission of full-length papers
January 14th, 2011
January 21st, 2011 (Extension)
Submission of tutorial proposals
January 21st, 2011
Notification of acceptance
April 18th, 2011
Submission of camera-ready papers
May 6th, 2011
Author registration deadline
June 17th, 2011
Demonstration proposals
May 6th, 2011